OUR PHILOSOPHY
House of Viraasi is a sustainable & slow fashion brand that fuses traditional Indian artwork and weaves with modern neo fashion patterns to bring to you the best of both worlds. With efforts to create a legacy of soulful, long lasting, and season-less clothing, we pride ourself in our trendy prints, exceptional comfort and high grade quality. Our hand crocheted designs will bolster your style and boost your self-love and self-nurture, a feeling every lady deserves.
THE ULTIMATE VACATION ESSENTIALS : RESORT WEAR
---
CHOOSE YOUR VIRAASI STYLE
---
LET'S BE FRIENDS ON INSTAGRAM
PLANT your own tree with every Viraasi order.
We at House of Viraasi strive to do our bit for Mother Earth. 
Introducing Eco friendly and Sustainable packaging ❤️! 
We have let go of the previous Thank you cards and introduced seed paper thank you cards, which are delivered with your order. 
We want you feeling super proud of yourself by planting a beautiful flower baby in your home. Trust us, you will live to see it bloom.

Soak this card in water for two nights and then sow it under a layer of soil. With enough sunlight and water see this card grow into a beautiful Marigold/Tulsi plant 🌱 

And be super duper proud of yourself , just like we are. ✨
SEED PAPER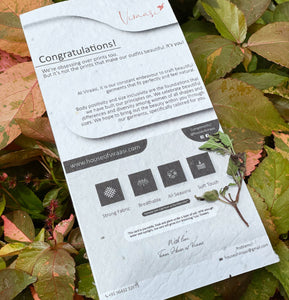 Let customers speak for us